Scarves- The Winter Warrior
Winter warrior, travelling companion, makeshift blanket, shawl, poncho, superman cape, turban, belt.... when it comes to the smitten merino wide scarf the possibilities are endless.
It is a handbag staple and can give your outfit that immediate lift. Or if you are prone to wearing a little bit of black (aka black from head to toe... Melbournians I am looking at YOU) then a scarf is a great way to incorporate a LITTLE bit of colour.. of if that's a bit scary, just a black and white pinstripe still does the job.
Women often look at scarves and write them off as a purchase due to having too many. Homework- go to your scarf collection (if you have one- if you don't are you even woman??) and pick out your favorites. Speaking from experience I have about 20 scarves and just 2 that I actually wear. The others are just a good reminder of that New York trip or a gift from a friend that I feel bad getting rid of. Well if you give them to charity you won't feel quite as bad so look at it that way ;)
Our aim is for you to have a few 'go to' scarves that are the most versatile and useful.
We often have ladies telling us they have the biggest scarf collection known to womankind yet don't own a single black one. The classic black scarf is a fail safe that complements striped tops and block colours perfectly.
So... the important scarves to own:
1) BLACK- Chic, classic, versatile, flattering, doesn't show red wine stains ;)
2) Now is time for another plain scarf but in a brighter colour (meaning no prints, patterns or stripes just a block colour) You may already be wearing something 'busy' and a plain black scarf can sometimes be too contrasting or heavy.
This colour choice is whatever you like the most- preferably something that goes with the majority of your wardrobe colours. You are never going to find one that goes with everything so don't make that the priory. Here are a few options... (the website has more)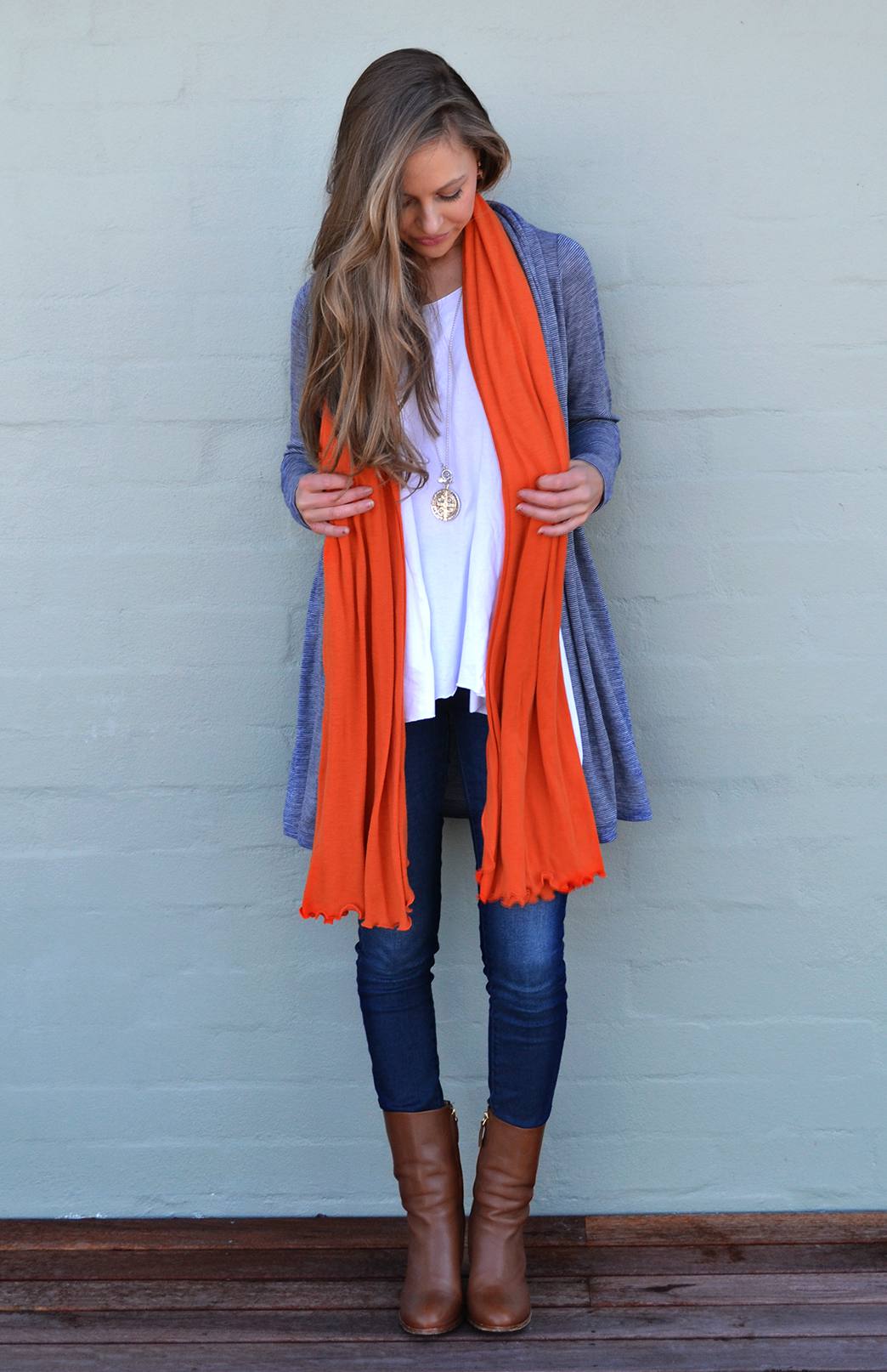 3) Now is where the fun begins... prints, stripes, florals you name it. This is your statement showstopper, the hero piece of your outfit. It can act as that pick me up that we all need sometimes and that beacon that allows us to be easily found in a crowd.
You may find yourself wanting a couple of these as they are all so different. You can wear a plain top and pants each day with a different stunning scarf and your entire look changes. They are an entire clothing garment in themselves...
OOH LA LA aren't they yummy. Oh the power of a scarf...
4) Now finally I think it is important to have your neutral colour. A nice nude or stone.... not strictly a block colour if the combination is quite soft. My personal favorite is stone.. it compliments every colour perfectly. This however may not be the case for you as this colour does wash some people out- but considering it isn't always right against the face it can be okay for the majority. Close to stone is taupe (pictured below) which is a great option for everyone.
So I do hope that your scarf collection will be far more organised now... and that the gaps become more apparent. You may in fact have no gaps but everyone needs the ivory multi scarf in their life no matter what so there is something for you to fix- always nice to have a task ;)
To finish our scarf chat I will share with you this amazing video which shows you many ways to wear a scarf that you never knew existed (and will probably never use) but some are terribly stylish!
We hope you found our blog helpful and keep in mind we have only shown about half of the scarves we sell so here you will find the link to the scarves section on our website which has the full array.
Love the Smitten Team xxxx